---
FREE Report: The ONE Tool Every Coach Needs

You can run your entire organization with this ONE Tool.
---
Summer Baseball Camp

Host In Your Town
Summer Youth Baseball Camps
How about hosting a summer baseball camp in your town: Do you want your youth ballplayers to have an opportunity to continue their player development during the summer months?
Do you want to provide your local players the chance to enjoy playing baseball in a fun learning environment with a professional coach?
Do you want your players to build positive character traits and virtues?
Then why not have Coach Dave put on a week-long summer baseball camp for your baseball players at your local facility in your town.
Yes, I will travel to your facility and conduct a week-long summer baseball day camp for you. Holt Baseball Camps have been hosting summer baseball half day and full day camps across the country for nearly thirty years.
---
FREE Coaching Course

Start building your own 'Culture of Player Development'
I will send you a 4 Part Coaching Course right to your email box.
---
 
Why Bring  Coach Dave & Holt Baseball Camp to your Facility?
Summer Youth Baseball Camps
What is different about Coach Dave and Holt Baseball Camps?
Dave is a professional teacher. He knows how to use the learning process to increase all player's skill and performance improvements.
Plus, he has the knowledge and background from professional baseball player development systems.
And, Dave knows how to coach kids using positive coaching qualities.

Add all the factors together and baseball players will benefit enormously from Coach Dave's quality instruction.
 Biggest Advantages of Hosting
Holt Baseball Camps
Coach Dave is the featured instructor and leads all the teaching and coaching during the week.
Player Development is the winning formula. Coach Dave understands and has a history of a quality player development system.
Ballplayers will be able to know how professional baseball players approach hitting with a hitter's mindset and develop a cultural of hitting.
Ballplayers will be able to learn Coach Dave's unique 'Bow and Arrow' professional baseball throwing system and will be able to know how to throw and catch using the same techniques as the pros.
Players will be able to experience highly engaging competitive drills and fun simulated sandlot games.
Players will be able to know how to be a great teammate.
Players will leave the camp having a great love of the game.
Players will be coached in a positive environment without being yelled at.
---
Frequently Asked Questions

How to Host a Holt Summer Baseball Camp
How long are the sessions?
You have the option of a 4 or 5 Day camp and a Full Day or Half Day format.
What are the age levels?
Age 8-13 year olds. All ability levels are welcome. This is not just for 'all stars' or so called 'elite' players. Often the all-stars are nowhere to be found by the time high school rolls around. We separate the players by age group so players will be working with players their same age levels.
Where has Coach Dave's Holt Baseball Youth Camps been hosted in the past?
California, New York, Connecticut, Florida and South Carolina. Coach Dave's home base is Charleston, South Carolina.
What Do I need to do to bring a Holt Baseball Camp to my town?
If you are interested in hosting Coach Dave and Holt Baseball Camps in your town for satellite summer session just contact Dave here.

We will discuss the details, set the dates, and get the ball rolling.
---
---
Back to Home Page from Summer Baseball Camp

---

Baseball Impossible: Player Development Make-Over



Build Your Own Culture of Player Development


&
Increase Your Players FUN-Level

6-DVD Video Set Building Your Complete Player Development System

Click to Order

Audio CD Format Click Here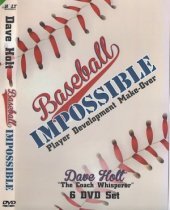 Coaching 6-DVD Box Set
Yes Dave,  I Want to Help My Players Enjoy the GAME

Coaching little league baseball & youth baseball can be a blast or could be a  Tough Gig.

Who in their right mind would come back year after year and have boring baseball practice and never improve their baseball skills? and get yelled at by adults?
Baseball Coaching Videos: Watch over 6 hours of tips on coaching approach, style, philosophy, and my unique player development system. 
Youth baseball careers are short-lived so lets make it count for our players. What do players really want out of playing baseball?
I want to Find Out More about the 6 DVD Player Development System

---
---