Online Hitting Lessons

"Virtual" Training

Is this a Good Fit for You?


Dave Holt Boston Red Sox 19 yrs Pro Baseball
The concept of online hitting lessons seems a little complicated at first. It is natural to wonder how can doing hitting lessons online really work?
You might be thinking, "Why don't we just go and take some lessons from a local pro?"
This is a good idea if you have someone qualified to coach you with the background to teach pro style hitting. Unfortunately, there are not always really good qualified pro baseball instructors available close to your area.
If you are lucky to have a qualified instructor close to your house then you should take advantage of their services.
If you don't have this option close to you then you should take a look at how I can help you by working together with simple technology that you have right now to bring us together for baseball training online.
What are the Benefits of Online

Hitting Lessons?


Analyzing swing mechanics:
Using slow motion video with mark-ups on screen and audio voice over is a very valuable tool. The instructor can see things in video that we may miss or overlook with the naked eye.
Plus, the player feedback is enormously useful to develop a specially tailored plan for each individual player.
The value of online hitting lessons is the speed in which we can do video analysis and see results in a short period of time.
Take a Look at Your Swing
First, we take a peek under the hood and watch your swing. I look for the good stuff and then we start working to polish up some things that will help to increase power, and hitting ability.
I start with an evaluation session to kind of size up where we are and then start planning to where we want to go next.
Keep the Plan Simple
After we identify the areas that need work we will start taking care of each glitch by talking you through the problems and correcting them by drills you can use on your own.
Mechanics can get really complicated and be bit too much to think about if we overload you with too much at once.
We don't want to get too scientific and bio-mechanical and blow a fuse. Hitting is tough but it's not rocket science. Keeping things simple to understand is what we will shoot for.
Quick Turnaround
When you send your video, our goal is to get back to you with analyzed video feedback in 1-2 business days and no more than 3 business days.
This gives me time to take a good look, do some on screen mark-ups and record voice over audio feedback.
In addition, I have some recommended drills I will be able to share with you so you will have access to work on your swing at home.
One-Time Video Hitting Analysis 
---
The 'Difference Maker'

Got to Get Your Head Right


Mental Side of Hitting
Good swing mechanics are important, but I think the mental approach needed to be successful is as important or maybe more important than the swing itself.
You could have a perfect swing and have the wrong mental approach and really, really struggle.
This is why I spend time one-on-one with live calls so I can get in your head the way the Pro's think and approach the mental side of hitting.
Along with a good swing if we can add the proper mental approach and mindset when you are in the batter's box---Look Out! This is where we really see significant results 'Big Time!
SIDE NOTE: I want to help kids be a complete hitter. Mechanics alone are not enough. The right mental approach is as important or maybe more important than mcechanics.
---
Who is Your Instructor?
Thank you checking out my online hitting lessons. 
I was really fortunate and lucky to work in professional baseball and spend 16 years with the Boston Red Sox organization as a player and minor league manager. 
I was blessed to be able to be around some of the greatest players ever to play the game. Players like Ted Williams, Carl Yastrzemski, Jim Rice, Wade Boggs, and plenty of others, too.
It was amazing to watch these men play baseball at such a high level. It was even more amazing to spend time with them as they worked with young prospects in their post-playing instructional days.
Each of these Hall of Fame players had their own unique style and look. At the same time, many of the qualities that made them fantastic overlapped into all of them.
Watching and learning from these great players I was able to weld my own teaching approach to include the features that made these guys great.
Watch My Welcome Message
---

Your Opportunity for One-on-One Customized Training

Now you have access to your personal instructor all year through our monthly plans


Every membership includes:
Tutorial videos from Dave
Ono-on-One Video Analysis Coaching from Dave
Personalized Training Plan and Feedback
Personal Live Video/Phone Sessions
Continuous Communication via Voxer App for text, audio lessons.
Sample Video Annalysis
Watch How Online Hitting Lessons Work


Sample Annotation Video Analysis by Dave 
---
Video Analysis
I provide you with analysis from the video you submit with annotated markups, and audio commentary.
Personalized Training Plan
Dave designs a plan just for you to work on each week according to your needs.
Direct Access to Your Instructor
You can ask questions and get feedback right from Dave using the free Voxer App.
---
Super Bonus
Personal Live Video Session
Every subscription includes personal live video/phone session with 'you' the hitter, and Dave. You swing on live camera and Dave is right there to help provide feedback.
Watch a Sample Hitting Drill


1. Sample Hitting Drill
---
One-Time Video Analysis

Pro Hitting Feedback


 You Might Be a Candidate for One Time Analysis

Your season might be over or you might be getting ready for opening day. Or you might be struggling mid-season. Either way you might be a candidate for the One-Time Hitting analysis.
You just send me your swing video and I will review the video and do an on-screen dissection with mark-ups and audio feedback with areas of your swing that need some polish.
Take advantage of my professional baseball coaching as I want to share with you what I have learned from some of the best hitters how ever played. I was mentored in the Boston Red Sox organization by HOF's Ted Williams and Carl Yastrzemski, and Wade Boggs, along with many other MLB stars.
Parents: Sign up for the One-Time Video Swing Analysis and start to get your hitting game back on track (or jump started if you are slumping). Parents, this if your time to help give your child a boost in their hitting.
Baseball is a tough game to find success at times. Hitting is one area where you can really get enjoyment from the game. Kids who hit the ball hard, far and often tend to play the most, play the longest and have the most fun!
---


Online Training Plans



1) Monthly (4 Week) Packages





2) 2-Month (8) Week Package





3) 3-Month (12) Week Package





Are you a player who wants to really dig in and become a complete hitter? Then you should jump into one of our training plans and start working with Dave.
Ongoing Training
The Double Package ($147/ (4) Weeks)
This four (4) week training is a good  for kids at any age or experience level (best for age 11 and older) to get the hitting process off on the right foot. It's not too overwhelming and they will begin to see results during the season and off-season prep for the coming season.
The Home Run Package ($287/ (2) month 8-Weeks  Package)
The most popular choice for the more serious player who wants to really succeed in hitting for power and average. Recommended for kids who want to play past age 12 or are already playing on the 60/90' ballfields.
Grand Slam Package: ($427/ (3) month 12-Weeks  Package)
There are a few rare kids who want to put in the time and work at baseball to excel higher than their peers. Sometimes we call them 'Cage Rats'.
You know how they call certain basketball players 'Gym Rats' because they are always sneaking into the gym to shoot the ball. Well 'Cage Rats' are baseball kids that are always finding their way to a batting cage to take swings.
---
$17
See how video analysis can help you. 
(1) Video analysis from Dave

One time video analysis. Get feedback on your swing from Pro Baseball Hitting Instructor
$147 (4) Weeks
For On-going, long-term development of player's skills and success path.
Weekly Video Analysis, mark-up & audio feedback

(1) Initial Live Phone/Video Session

Access to appropriate Instructional Tutorials & Drills

Unlimited text and audio communication via free Voxer App

Weekly FaceTime, Skype Live sessions for mental hitting skills.




---
$287 (8) Weeks
For the more consistent contact with your Instructor & deeper dive into our hitting success path. Most Popular Package
Weekly Video Analysis, mark-up & audio feedback

(1) Initial Live Phone/Video Session

Access to appropriate Instructional Tutorials & Drills

Unlimited text and audio communication via free Voxer App

Weekly FaceTime, Skype Live sessions for mental hitting skills.
Grand Slam
$427 (3) Months
Recommended for the highly dedicated player that has serious aspirations to play at higher levels of baseball. 
Weekly Video Analysis, mark-up & audio feedback

(1) Initial Live Phone/Video Session

Access to appropriate Instructional Tutorials & Drills

Unlimited text and audio communication via free Voxer App

Weekly FaceTime, Skype Live sessions for mental hitting skills.
---

How Does My Online
Training Operate?

Video Analysis List


Film Yourself
Just use your phone, tablet, or camera to film yourself doing the activty that you want Dave to analyze.
Upload your Video
You simply upload your video into your personal video account so Dave can watch it for analyzation.
Video Analysis
With the use of Hudl slo-motion and markup tools along with audio feedback, Dave will walk you through the video analysis of your video right on your own device.
Coaching Videos
Watch as Dave guides you through the mechanics and the 'why' for every baseball assignment for you.
Live Video Session
You and Dave schedule a live phone/video session that lasts about up to 15 minutes. Dave will observe you while you swing and provide constructive feedback on the spot. 
Access to Your Instructor
You surely can ask questions about your training plan and review your analysis using the free Voxer App.
---
Ready for the Next Step
 
Order Now
Click the link...
Double Package (4) Weeks Personal Training $147
Home Run Package (8) Weeks $287
Grand Slam Package (3) Months for full season training $427
Have any questions?
Call or Text message Dave: (843) 695-9630
---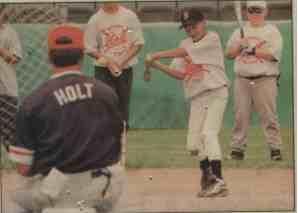 Holt Baseball Camps
---
Online Hitting Lessons Double Package
Online Hitting Lessons Home Run Package
Online Hitting Lessons Grand Slam Package