HOLT BASEBALL
Academy


New Location!


CAROLINA ICE PALACE
7665 Northwoods Blvd.
North Charleston 

(843) 695-9630



---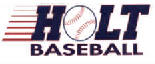 ---
'Player Development
Is the Winning Formula'

---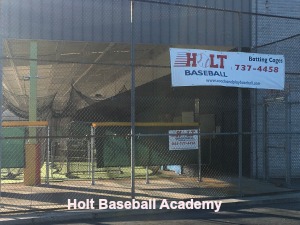 Join us at Holt Baseball Training Center for premium indoor baseball/softball practice.
We are here to serve the areas of Summerville, Goose Creek, North Charleston, Hanahan, Walterboro, Moncks Corner, Charleston, Mt Pleasant, West Ashley and surrounding areas in Dorchester, Berkeley and Charleston Counties.
Indoor batting cages, pitching mounds, soft-toss area nets, batting tees, and protective screens. 
ALL Inclusive Summer 2019 Training Program
---
---
What Are the Benefits of  Baseball/Softball Practice Facility?
'You Have to Catch it, Throw it, Field it, Hit it'.
or it Could Be Game-Over

It is getting more and more difficult to find time and locations to practice. In addition, the weather can also make it hard to get a practice in.
We have covered batting cages to hit, field, throw, catch and pitch.
Ballplayers have to get a bunch of what I call 'touches' to work to improve their skill sets. In a typical game scenario the ballplayers do not get enough 'touches' to properly develop. In other words they don't get to swing it, throw it, catch it, or field it enough to get better at typical team scenarios.
The Ballgames: Its kind of a photo shoot...kids look good in their uniforms and the games have a lot of hoopla provided by the adults, but there is not a whole lot of player development taking place.
Holt Baseball Training Center provides a place to 'get your work in' and get some vitally important additional 'touches' in addition to your ballgames.
It could be Game-Over unless players can hit, throw, catch and field at an adequate level of play by the time they reach age 13 or 14. Just playing games (without practice) often will not provide enough chances to handle the ball or swing the bat to develop into a competent high school baseball player.
Mental Approach: The mechanics are just the appetizer. Without the right baseball mindset you may still not survive and have fun. 
The main course is the mental side of hitting, pitching, fielding and playing! Where are you going to learn the way pro baseball players think? From your coaches, parents?
What Are the Features at Holt Baseball Training Center
Equipping Players to Stay in the Game

Resident Pro Coach Dave Holt
What does Holt Baseball Training Center offer:

On-site Professional Instructor: Coach Dave Holt is the lead instructor and director of player development. Dave has a passion for developing players and has learned from some of the best during his professional baseball career and nationally renown interest in developing  youth baseball coaches. Coach Dave Holt Bio


Frequently Asked Questions
What Can I Expect from the
Holt Baseball Training Experience?



What are the Hours of Operation?
Generally during the school year: 3:30 PM - 8:30PM Monday-Friday. Saturday 11:00-4:00 by appointment. NOTE: Hours may be adjusted from time time.

Are we open to the Public?
Yes, anyone can come and workout depending on cage availability. Cage rental fees will apply.
Can I bring a friend?
Cage rental is set up best to have a small group or team share the cages. This makes it more cost effective and allows for quality practice reps.
Do You Allow Teams to Practice?
Yes, just call ahead to check for availability and schedule your session.
How Do I Schedule Lessons?
Baseball and softball lesson information is here.
What is the best way to contact us?
Phone calls  843 695-9630 and using the contact us box below. 
email Dave @ daveholt3@gmail.com

Group & Team Cage Rentals
Bring More Fun-Ness to the Game


Need a quality training facility to practice and increase the Fun-Level?  We have 2 Live Cages and 1 Pitching Machine Cage. All cages are equipped with baseballs, tee, soft-toss nets, protective screens and athletic turf. 
It is best to call to reserve your time slot.
Cage Rental Rates:
One Live Cage:      30 Min. =  $15         1Hour =  $25
Two Live Cages:      1Hour  =     $55
One Pitching Machine Cage:  30 Min. = $25     1Hour = $40
One Live Cage & One Pitching Machine Cage:   1 Hour  = $65
Two Live Cages & One Pitching Machine Cage:  1Hour  = $80
---
 Send Coach Dave a Message

Baseball & Softball Lesson Info
Batting Cage Rentals for Teams, Groups, Individuals
ALL Inclusive Summer Training Program
---
FREE Coaching Mini-Course


Take a sneak-peek under the hood and see how PRO baseball coaches approach youth baseball coaching.
Free Mini-Coaching Course

*It only takes an hour or so of your time.
---

Baseball Impossible: Player Development Make-Over



Build Your Own Culture of Player Development


&
Increase Your Players FUN-Level

6-DVD Video Set Building Your Complete Player Development System

Click to Order

Audio CD Format Click Here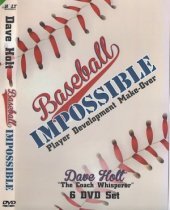 Coaching 6-DVD Box Set
Yes Dave,  I Want to Help My Players Enjoy the GAME

Coaching little league baseball & youth baseball can be a blast or could be a  Tough Gig.

Who in their right mind would come back year after year and have boring baseball practice and never improve their baseball skills? and get yelled at by adults?
Baseball Coaching Videos: Watch over 6 hours of tips on coaching approach, style, philosophy, and my unique player development system. 
Youth baseball careers are short-lived so lets make it count for our players. What do players really want out of playing baseball?
I want to Find Out More about the 6 DVD Player Development System

---
---