Baseball/Softball Lessons

HOLT BASEBALL Academy
CAROLINA ICE PALACE
7665 Northwoods Blvd.

North Charleston 
843 695-9630



Dave Holt: 16 Years Boston Red Sox Organization


Player, Coach, Field Manager, Instructor
3 Time 'Coach of the Year'

Map Click Here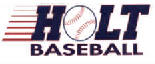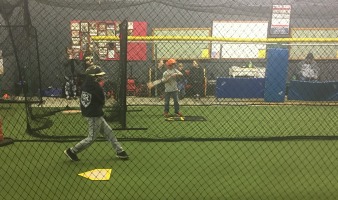 Holt Baseball Academy
---
---


Why Take Hitting, Throwing, Fielding & Pitching Lessons?

Travel Ball 'Investment' Should Include Professional Training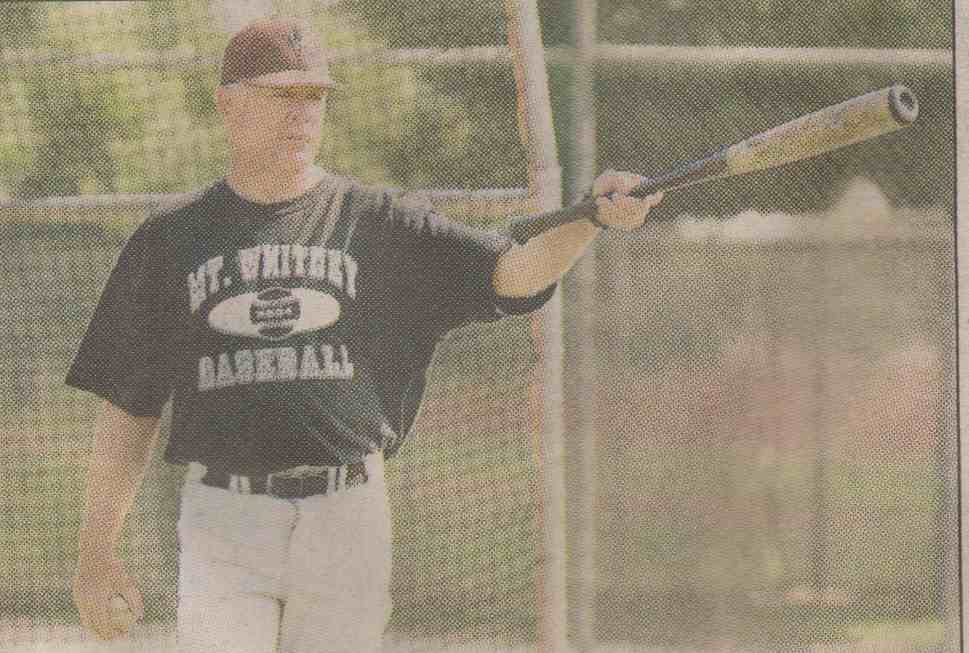 Coach Dave Holt
What makes Baseball Fun?
Troy Silva said it this way.
"Your success in baseball is dictated by how well you can hit. 
You get your accolades on how well you can hit. 
You play at the next level on how well you can hit. 
You continue to play a position you are not very good at if you can hit. 
The other thing it does for you is it builds a confidence and it builds a fun factor. 
No one has fun when they are slumping or not hitting well.You got to hit well. 
No one comes home after a game and says, "You know what, I was 0 for 4 and I had three strikeouts, but I played really good defense—'whoo'-'who'—'yippee' —that was really great." 
No, no one does that. 
You got to hit. You got to hit often because your future will be dictated by how well you can hit.
Coach Dave Holt says, "I have said plenty of times a 'player will go as far as their bat takes them'. Is hitting important? Yes, its really important.
Do the best hitters stay in the game longer? Yes, I think so.
You don't see too many good hitters sitting on the bench very long.
Does hitting increase the 'Fun' level? Indeed it does.
Players who cannot hit well will not want to hang around the game very long before they start heading for the exits and find other stuff to do with their time.

Increase Your Fun-Factor Level
Polish Your Batting and Throwing Skills
& Get Your Mind Right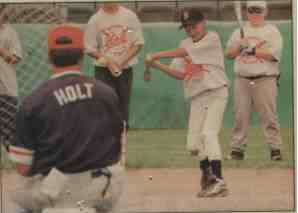 Polished successful ball players have a certain look and feel. Sometimes this comes natural but often most players need additional polish (or a bunch).

I polish the hitting mechanics to professional standards. Then we attack the all important timing element. Then we analyze the pro hitters mindset. Rarely if ever is any of this knowledge going to accessed by the child's coaches, even the real good ones.

Nobody volunteering to coach knows how to teach ball handling, pitching, throwing, fielding at a professional level. I will add pro style techniques to the child's game.

If the parents can budget $25-$50 per month or more, your child can get the professional polished skills to add to their love for the game. This gives you enough for sufficient lessons and a good summer camp.
---
"If you think its expensive to hire a professional to do the job, wait until you hire an amateur."" Red Addair
What they say:
"My son never hit the ball once last season or threw the ball very well. After working with Coach Dave Holt this season he is now one of the top hitters on the team, hits the ball often and with authority, and his arm has improved dramatically. He is really enjoying playing baseball. His improvement in one season is truly amazing! JB in Summerville, SC
"Logan went from striking out practically the entire season last year to the top power hitter on his team this season. All the kids know to back up in the outfield when he comes up now. He has been crushing the ball this season. We definitely will continue coming to Coach Dave for instruction". WG in Summerville, SC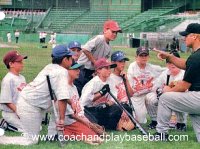 Holt Baseball Academy Lessons
Surviving the High School Funnel

When Should We Invest in Lessons?



You have decided to INVEST several hundred to over $2000 to have your kids play travel baseball.
In order to get your best return on your baseball investment you definitely want to consider utilizing a professional instructor to maximize your return. 
Trying to 'save' money on paid instruction after your initial outlay may not deliver a high return on your travel ball investment.
Parent volunteer coaches (not paid) even good ones, will not replace what a paid professional instructor can provide.
Your kids are going to 'funnel' into high school baseball around age 14 or 15 year old. This is a very small 'funnel'.
The kids who hit the best and have the right polished ball handling fundamentals have the best chance to get into the 'funnel'.
Which kids are going to reach the High School Baseball 'Funnel'
The kids who hit the ball hard, far and often
The kids who play the 'ball-handling' positions the best.
The kids who have a 'love for the game'
This is why I have created my individual training packages.
U

nleash each hitters power potential
Be able to manage failure
Comprehend how professional hitters do it
Build ball handling, throwing and pitching skills

When is it a good time to take instructional lessons for baseball/softball?
If your child has a passion for baseball and really wants to play the game well.
When you want to increase your child's FUN-FACTOR
When you do not have enough extra time to practice with your child outside of baseball team activities.
When you and your child cannot practice together without getting into a tizzy with each other.
If your child is struggling with hitting, fielding and throwing.
When your child has potential, loves the game, and wants to play at a higher level.
When the player has the mechanics but needs the real push over the top to gain the insight on how professional ballplayers use the proper mental approach to succeed.
When your child's team rarely practices and the coaches are not able to help teach the finer points of the game.
Your child enjoys practicing and playing on their own time.
When you are ready for a top professional that will help polish up my child's skills.

Click HERE for Lesson Policies


What Can We Expect to Get Out of Lessons?

'You Go As Far As Your Bat Takes You'



There is never a sure answer for every child because each child has a different skill set, abilities, physical maturity level, athleticism, experience level, age, competitiveness, grit, and passion for the game.
It is very common that the baseball environment the child has been associated with has caused a lot of damage to the child's confidence. Coaches and parents can impose a lot of fear in players over time, and this will take time to filter out and get fixed. 
What I do know is the mental approach I use for hitting is used by professional players and is not commonly taught by youth baseball coaches. My techniques that I teach are all based on my experience learned in pro ball and are proven professional baseball fundamentals---not drills I found on YouTube (although some stuff is ok).
My teaching progressions start with basic mechanics in hitting, fielding, pitching, throwing and catching. Once the basic mechanical foundations are firmly established we can progress into higher level learning.
Lessons run 30 minutes or One Hour in length.
Hitting Lessons
I use the batting tee to build a strong foundation of professional style mechanics. As the student makes progress we gravitate into soft-toss and live pitches. I always begin each session with the batting tee because it is a great tool for me to teach proper mechanics and reinforce to my hitters the correct contact point on various pitches.
I also make sure my students know how to protect themselves from getting hit by pitches and to minimize the injuries when the pitch does hit them.

Pitching Lessons
Having a sound understanding of proper mechanics gives pitchers:
a better opportunity to fix their mechanics and adjust during competition.
 throw more strikes.
 maximize velocity
 keep their arm healthy
and learn how to effectively change speeds...learn the change-up.

My students will improve in all these areas especially if they are dedicated to practice on their own.
Fielding & Throwing
Professional players have a distinct look when they field the ball and throw the ball. Some players naturally have these traits but most need to be taught and shown how to field and throw correctly.
Players that stay in the game the longest can & reach High School 'funnel':
handle the baseball consistently well,
 get rid of the ball quickly,
 and throw the ball accurately most of the time.

play multiple positions.

Use baseball knowledge to develop instincts for the game.
know how to use insider tips on how the best think & play infield.

If players reach the 'big fields' after age 12 and cannot catch and throw the ball consistently well is will be harder for them to play the game well.
---

Holt Baseball Academy

Save $ on Lesson Packages

Get Started Today!



 Player Development Lesson Packages
   30 Minute lessons  

1  Lesson   .....  $45                              
5 Pack ......       $185 (1 year expiration)
10 Pack   .....    $325 (1 year expiration)
15 Pack ......     $450 (2 Year expiration)
20 Pack .....     $595 (2 year expiration)
------------------------------------------------------------------
1 Hour Lessons  
1  Lesson  .......           $75  
5 Lesson Pack .........   $345 (1 year expiration)
10  Lesson Pack ........ $645 ( 1 year expiration)
15 Lesson Pack .......   $900 (2 year expiration)
20 Lesson Pack ......   $1195 (2 year expiration)
-----------------------------------------------------------------------
*Lessons provided for pitching, hitting, fielding, throwing and catching. *Lessons are half hour (30 minutes) or One Hour (60 minutes) in length.
*Lessons are scheduled approximately once per week.
*Cancellation Policy: 24 hours notice is appreciated in the event of a cancellation or rescheduling of a session. Failure to comply will result in a charge for the lesson.
Click HERE for Lesson Policies

I Appreciate Referrals!...If you recommend a friend that signs up for a lesson package I will give you a FREE 30 minute lesson or pitching machine hitting session.

Book Training Sessions
 
Push the 'Buy Now' button and you will be on the PayPal page. Follow the directions and book online for easy account signups.
---
---

Small Group Lessons



Two, Three or Four Players
Gather two, three or four players and book a package of 4 One Hour Lessons together. 
This a fantastic way to get professional instruction and save $. 
Yes, I have worked with many small groups on hitting, pitching and ball handing skills in small groups. 
       How it works...
Players split the cost evenly according to the number of kids in the group.
Two Players:    1 Hour Lesson    $35 each player
Three Players:  1 Hour Lesson    $25  each Player
Four Players:    1 Hour Lesson    $20 each Player
Easy to set up:
Gather your group
Make a Payment
Call Dave or come by and schedule the sessions.
Watch the improvement!
---

Yes! We are Ready to Book

One-on-One Personal Instruction

Use PayPal to Order Now
or credit card or (pay in-person)


30 Minute Lesson Packages
1 Hour (60 minute) Lesson Packages
After your payment is submitted the next step is...
Schedule your sessions. We do the lessons after school hours and on Saturdays.
Call 843 695-9630 and Dave will set up your schedule.

or fill out the form below and submit!
Make sure you click HERE for Lesson Policies

Thank you for allowing me to work with you and your family.
---

Contact Dave @ Holt Baseball Lessons

Increase Your Skills

Pro Baseball Coaching


843-695-9630
or 
---
---
---
Back to Holt Baseball Training Center Home
---
FREE Coaching Mini-Course


Take a sneak-peek under the hood and see how PRO baseball coaches approach youth baseball coaching.
Free Mini-Coaching Course

*It only takes an hour or so of your time.
---

Baseball Impossible: Player Development Make-Over



Build Your Own Culture of Player Development


&
Increase Your Players FUN-Level

6-DVD Video Set Building Your Complete Player Development System

Click to Order

Audio CD Format Click Here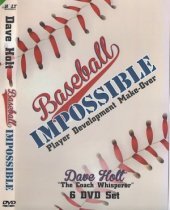 Coaching 6-DVD Box Set
Yes Dave,  I Want to Help My Players Enjoy the GAME

Coaching little league baseball & youth baseball can be a blast or could be a  Tough Gig.

Who in their right mind would come back year after year and have boring baseball practice and never improve their baseball skills? and get yelled at by adults?
Baseball Coaching Videos: Watch over 6 hours of tips on coaching approach, style, philosophy, and my unique player development system. 
Youth baseball careers are short-lived so lets make it count for our players. What do players really want out of playing baseball?
I want to Find Out More about the 6 DVD Player Development System