FALL BALL
Elite Infielders Camp


November 17-18, 2018
Saturday  10:00 - 12:00pm
& Sunday 1:00 - 3:00pm
·      4 Hours with PRO Ball Coaches
·      Full Size Practice Area
Located at Carolina Ice Palace Facility
Please read: This ELITE baseball camp is 'rain or shine' and open to serious players grades 5-12. This camp is intended to cover advanced details of infield play.
I guarantee that the level of instruction given at this camp will rival that of any top college camp you could attend.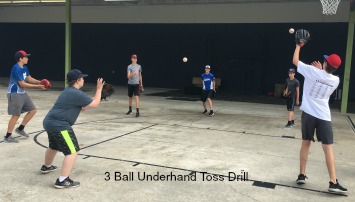 Best Players 
 Throw it, Handle it, & Field it



Instructor Dave Holt
Yes the kids that can handle the ball, play ball handling positions, and can swing the bat...stay in the game longest.
Teams that throw it the best, catch it the best and hit it the best will win more games. 
PRO coaching + repetition = better players
---
Send me your info and I will be glad to share about our Elite Infielders Camp
---
Want to See Improvement?
Results....


Fall Ball is the time to Get Better
We will cover many elements of infield play…. including situation positioning, key drills, ball handling skills and reps.
Topics include How to increase ball handling consistency and improve range, PRO style Bow & Arrow throwing technique. My favorite infield drills.
Proper fundamentals on groundballs, backhands, forehands, slow rollers, relays, double plays, rundowns, tag plays and more.
'Elite Infielders Camp' Registration Form
1. Download and print the registration form
2. Or Pick up the registration form at Holt Baseball Academy
3. Payment options: Pay here on PayPal, or check or cash paid at Holt Baseball Academy
4. Scan and email your registration form to holtbaseball24@gmail.com
---
Pay Pal or credit card
---
What Others say