Developmental League:
Our Minor League System

Charleston Developmental League founded by former Boston Red Sox 
professional manager Dave Holt. 
What others say.
Our mission is to bring a professional baseball player development system to teach young baseball players the solid fundamentals that will carry them to their maximum highest ability level.
We look at youth baseball as the minor league development system that will provide quality ballplayers to the local high school teams. This developmental league will prepare players to be ready to play high school baseball.

---
FREE Coaching Mini-Course


Take a sneak-peek under the hood and see how PRO baseball coaches approach youth baseball coaching.
Free Mini-Coaching Course

*It only takes an hour or so of your time.
---
Charleston Developmental League
A Different Approach
The unique approach to player development at the Charleston Developmental League is quite different from traditional youth baseball.
The win-at-all-costs approach is not used here. We value the individual player's development in the concept of the team. Practices are for developing the proper skills necessary to reach the higher levels of baseball.
Often the better players at the age of 12 are out of baseball by the time they reach the higher levels high school baseball. They may reach their ceiling athletically. Well, that is just a natural progression that we cannot control
But, they may be lacking from 'well coached' fundamentals of the game. This is something we can help with.
We emphasize the techniques needed for players to be successful in the middle school and high school levels.
Most importantly we want to help shape our players into kids with the 'whole package'. We use baseball as the vehicle to help develop strong character values on and off the field.
We push our kids to reach their potential on the field and in their schools, families, churches and communities. Being a good teammate is huge. Being a good student and citizen is at the top of the priority ladder, too.
In order to be successful on the ball field a player has to be successful off the ball field. If we have any flaws off the field they are almost always going to show up as detrimental character flaws on the field.
That is why we encourage the "Whole Package" in our character development so players can have the opportunity to better themselves as a person.

Baseball is a 'Tough Gig'
For a baseball player, success is difficult to come by at times. Baseball is very hard to play well.
There are going to be plenty of mistakes, failures, frustrations and strikeouts.
Having a patient coaching style with a positive approach is essential. Yelling at kids with a harsh, sarcastic tone and embarrassing them in front of their peers is not going to happen.
Professional baseball player development has a long patient vision for a players' progression.

Youth Baseball Today
Today in Youth baseball, the game has become a very win-oriented entity.
The baseball adults put the win-at-all-costs approach ahead of player development. The adults in the youth game have too much involvement in the ownership of the outcomes of the games (winning and losing).
The youth game has been taken over from the kids and is now completely engulfed by win-at-all-cost adults looking to win pennants, tournaments and All-Star national play-offs with little or no concept of player development.
Yes, trying to win is part of the game and part of the challenge when we play baseball.
But, so often teams play a couple games per week with little or no practice. At the games the 3 best players play pitcher, catcher and shortstop. The rest of the kids rarely touch the ball or swing the bat.
Ask yourself: Are we developing ball players? Or are we trying to win the pennant?

Scaring the Hitters
Then the kids come to bat and our dad-volunteer-coaches start scolding and over-coaching the hitters.
Ever listen to the post-swing Ooohs- &- Aahhs and immediate verbal scolding every time a hitter swings and misses or hits a foul ball? So often the youth league coaches do more harm than good. Verbally critiquing and hammering on kids after every swing causes kids to bat defensively which is the beginning of a quick ticket out of the game.
Many young players take a premature exit from youth baseball because of a lack of quality coaching.

Parents Roll: Do 'NOTHING'
Little League Parents syndrome is real. The 'bleacher creatures' over-zealous parents and spectators have a roll to play. Yelling directions and coaching from the bleachers is extremely detrimental to kids trying to play ball.
We make it very easy to be a parent and enjoy watching your kids play. My Letter to Parents.
Name a sport where the fans, coaches and adults coach the player immediately before the actual performance.
Can you imagine Phil Mickleson lining up his putt and everyone yelling at him to 'keep your back elbow up' and 'get your feet set straight' or 'keep your eye on it and don't help out the pitcher'.
No, you leave the player alone and let them play the game without constant mind-cluttering coaching points that adds stress, strain and pressure to the player.

Frequently Asked Questions
What is the Charleston Developmental League?
We look at our mission as a player development system that provides quality baseball players prepared to feed into our local high school baseball teams. We abandon the traditional win-at-all-costs approach and go back to teach the fundamentals in order to help players be in position to reach their talent ceiling.
Is there a tryout or registration process? I do not believe in tryouts or cutting players. If space is available than any and all ability levels are welcome. You can register on the contact form here. 
Who is the director of Charleston Developmental League?
Dave Holt: Director of Charleston Developmental LeagueTestimonials
Is there a cost to sign up?
Yes. A professional baseball coach is the player development director and there are operating costs of equipment, labor, insurance, administration, and facility rentals. The fees come out to be a little more than one individual private baseball lesson per month.
How long does the fall session last and where are the practices?
The fall session runs twice per week during September and October. The sessions are held at Cathedral Academy off Ashley Phosphate Rd in North Charleston.
Do you recruit players?
No. The idea here is not to 'stack' a team, put together an all-star team or see how many wins we get. That is the last thing we are trying to do. Winning at this age level is insignificant. We are looking for players that want to improve their skills and have ambitions of playing baseball deep into their high school years.
How do I sign up for the Charleston Developmental League?
Go to the sign up registration page for all the info. 
What baseball equipment and gear do I need?
Nothing fancy, just basic stuff for baseball practice. Baseball pants (no shorts because sliding is tough without long pants), baseball shoes with cleats, a glove, baseball cap, bat (optional), batting helmet (optional). You do not have to buy a uniform.
Are players assigned to a team?
We have no organized teams. Players will be divided into small groups during each practice for competitive games and drills.
What happens if I miss practice?
There is more to life than baseball. Family, church, and schoolwork are way more important than baseball. If you have something that comes up that takes priority over baseball practice than no harm done. Or if you need a break—take a break.
Now, we would not allow missing practice for another team's event. If you are playing on another team or sport where you will miss our practice then you should not sign up for our sessions as this is not fair to take up a spot by playing on multiple teams and missing practice for this reason.
Can I play on weekend teams? No problem as long as you are able to attend our practice sessions without any conflicts during the week.
Are parents allowed to watch? Parents are welcome any time. We will have some policies to follow which make being a parent easy and enjoyable. See my letter to parents.
Do you plan on entering organized travel tournaments?
At this time I don't have plans to play in organized leagues or tournaments. You never say never. So, we will see where this goes and evaluate the situation and needs of the players as time goes on.
If I stop attending because of injury or illness will I get my fees returned?
Stuff happens. In the event an injury or severe illness the player will be credited from the time they stopped and applied to a future session.
How many players are going to excepted in each session? I have a soft rule of about 20. Once we get more than 20 per session we have to start looking into adding another session in order for each player to get enough reps, swings and coaching.
Is there a family discount for multiple siblings?
Yes, the second sibling gets 25% off the session fee.
Can I signup after the session begins?
This will be a case-by-case decision. First, availability of space has to be decided. Second: If there is space you must pay the full session price since it would not be fair to those who initially signed up. At some point by missing many early practices and laying the fundamentals out it will be unfair to the other players if I have to stop and go over some basics for a new player that was not here at the beginning. So timing will also be a factor in adding players late.
Back to Charleston Developmental League from Developmental League

Baseball Impossible: Player Development Make-Over



Build Your Own Culture of Player Development


&
Increase Your Players FUN-Level

6-DVD Video Set Building Your Complete Player Development System

Click to Order

Audio CD Format Click Here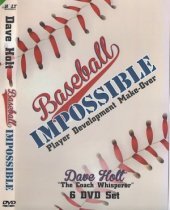 Coaching 6-DVD Box Set
Yes Dave,  I Want to Help My Players Enjoy the GAME

Coaching little league baseball & youth baseball can be a blast or could be a  Tough Gig.

Who in their right mind would come back year after year and have boring baseball practice and never improve their baseball skills? and get yelled at by adults?
Baseball Coaching Videos: Watch over 6 hours of tips on coaching approach, style, philosophy, and my unique player development system. 
Youth baseball careers are short-lived so lets make it count for our players. What do players really want out of playing baseball?
I want to Find Out More about the 6 DVD Player Development System

---
---