Charleston Player
Development Camp
Fall Baseball Practice Sessions Going on Now at Your Field

843 737-4458

How did we get to the Charleston Developmental League? Has youth baseball changed in recent years? A generation or two ago the game seemed a lot simpler for sure.
Youth baseball was about teaching the game and fundamentals while playing the games. It sure does not seem like that is what is going on today.
For the baseball parents of Little Leaguers, Dixie Leaguers, Pony Leaguers, Rec ball leaguers, fall ball and travel ball players there is one common denominator that we can all agree on—we want what is best for all our kids. We all want our kids to be the best they can be and be a contributor to a ball club's successful seasons. 
This is our local Minor League System
Who Runs the Charleston Developmental League?
---
FREE Coaching Mini-Course


Take a sneak-peek under the hood and see how PRO baseball coaches approach youth baseball coaching.
Free Mini-Coaching Course

*It only takes an hour or so of your time.
---
Do We Go Rec Ball or Travel Ball?
One of the biggest changes I am realizing is that travel teams are over taking rec ball teams and rightfully so.
Your rec ball team will usually have one or two top-notch players, probably three or four middle of the road players and likely 5 or 6 kids that are pretty lousy.
The 5 or 6 really lousy kids will take much of the coaches' time to get them to just catch a ball or make contact at the plate.
The one or two top players and the 3 or 4 middle of the road kids likely will not get as many reps as they should get during limited practice time with the coaches having to work with the really lousy kids, and will not reach their improvement levels. So, I have some issues with rec ball.
Travel Ball, Really?
Do you take the travel ball route? You have a few more 'better' players, flashy uniforms, travel road trips,  have to pay lots of money, weekend tournaments.
Sounds like a better scenario than rec ball but I am not sold on this route either especially for the 12 & under age levels and pre-puberty baseball.
Young baseball athletes need to polish up and work on fundamentals of the game. The long term success of a player depends on their physical abilities, desire to work at it, and the ability to hit, throw, field, catch, base run and perform the skills of the game.
This will take practice, practice and more practice under professional baseball supervision.
Most travel teams do not work with this model. Ball teames most likely meet up once per week, hit a few swings and throw a few and pack it in for the weekend road trip with the flashy uniforms and scrounge up enough pitching to try to win a tournament.

So, What Do We Do?
Call For a Free Session


843 737-4458
The Charleston Developmental League is what we are doing. We practice once or twice a week. Frequently Asked Questions
We spend the first hour or so working in a up-tempo baseball practice focusing on the professional baseball skills needed to play the game of baseball at a high level. Using fast paced drills for throwing, fielding, hitting and base running the players will get huge amounts of repetitions
The second part of the practice will be 'Sandlot Style' baseball game. Players will be assigned teams of five on five or six on six and switching positions every inning.
On going teaching happens on the spot. We might play outside teams or tournaments down the road but we are not seeking to play organized baseball.
You will see players improve right in front of your eyes because of the number of repetitions and the right kind of professional polished technical coaching.
Players have to practice the right way and have to do it a lot of times. If your travel team does that, nice. If your rec ball team does that, well stick with it.

The Problem in Youth Baseball Today
The problem with youth baseball today is the egos of the fathers are taking over youth baseball at the rec ball and travel ball levels.
For the Coach/Dads the biggest goal is to win games/tournaments rather than developing players. The win-at-all-costs approach has taken over youth baseball.
Now, I am just as competitive as the next guy. Learning to be competitive and win ballgames is necessary for players' development.
But, just competing without a solid fundamental foundation is a road to a shortened baseball career. Your weaknesses will be eventually exposed big time.
The light will shine on those that have deficiencies in their games. It is imperative to learn the game with professional baseball style fundamentals and practice them over and over and over. Why not do it the right way?
 Why Should I sign up for The Charleston Developmental League?
What is the Charleston
Developmental League?
The first thing the Charleston Developmental League does remove the adult ownership involvement in the outcome of the games.
There are no organized teams. The teams are made up on the fly in a couple minutes during each practice.
When the adults have no ownership interest (winning and losing) in the outcomes, then the game is returned to the kids—where it should be.
The result is 'Sandlot Style' modified games. We will administer the games, monitor, officiate and organize. The games will be action packed, fast moving and competitive.
Players will get ample at bats and play multiple positions (exception: lefties will play pitcher, 1B and outfield).
The 2nd thing: Player Development:A strong emphasis on the basic fundamentals will be our daily routine.
Professional style drills and techniques will be used to develop skills in hitting, bunting , base running, fielding and throwing.
In addition, team drills such rundowns, cut offs and relays, pop fly priority, defending the running game and infield plays will be emphasized.
Players will receive professional coaching so they can polish their skills in all facets of the game.
Very few amateur volunteer coaches have the knowledge and professional baseball teaching background to provide quality baseball coaching.
Most amateur coaches, through no fault of their own, lack the expertise to help players improve or develop their baseball skills. Many amateur coaches end up doing more harm than good.
Yes I want to Know how to Sign Up.
Our Local Minor League Player Development System.

Best Features
Some of the good features of Charleston Developmental League.
• Quality, experienced professional coaching (no Dad coaches).

• Well planned practice, fast paced drills, competitive developmental mini games, quick transitions.

• How to be a good teammate.

• Teamwork, sportsmanship & morally focused approach are fostered.

• Positive coaching approach and teaching style.

• Lots of learning in a fun, positive environment.

• Sandlot Style modified practice games. FAQs
What We Will Not Have
Many traditional baseball things will NOT be part of the Charleston Developmental League
• Uniforms
• Umpires
• Nagging negative coaches or parent coaches.
• Slow moving, unorganized practice, standing around.
• Throwing equipment.
• Bad language
• Treating teammates poorly.
• Lollygagging around the field.
• Parents coaching from the bleachers.
• Cutting players.
• Tryouts or Drafts
• Organized Teams
• All-Stars
Stuff You Will NOT Learn in Youth Leagues
• Professional baseball hitting mindset & approach.
• The Perfect Fielding Position
• Bow and Arrow Throwing
• How to "start the lawn mower" and field like a pro.
• One shuffle footwork.
• The 'Half-Throw' throwing drill.
• Pro base running tips.
FAQs on the Minor League Development League
Back Home from Charleston Developmental League
Bring Me to Your Team Practice
FREE Session
843 737-4458



Charleston Developmental League comes to your baseball practice. You can have me come to your practice field for a free 45 minute session. If you like the stuff I do and would like to have me back then we can schedule future practice dates with your team.
The fee is $10 per player (minimum 10 players). We will have a 2 hour youth baseball practice instruction and training session. See how up tempo and fun practice is and how much the kids will enjoy playing baseball. 

Baseball Impossible: Player Development Make-Over



Build Your Own Culture of Player Development


&
Increase Your Players FUN-Level

6-DVD Video Set Building Your Complete Player Development System

Click to Order

Audio CD Format Click Here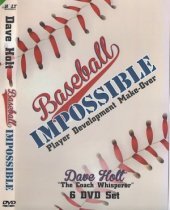 Coaching 6-DVD Box Set
Yes Dave,  I Want to Help My Players Enjoy the GAME

Coaching little league baseball & youth baseball can be a blast or could be a  Tough Gig.

Who in their right mind would come back year after year and have boring baseball practice and never improve their baseball skills? and get yelled at by adults?
Baseball Coaching Videos: Watch over 6 hours of tips on coaching approach, style, philosophy, and my unique player development system. 
Youth baseball careers are short-lived so lets make it count for our players. What do players really want out of playing baseball?
I want to Find Out More about the 6 DVD Player Development System

---
---