---
FREE Report: The ONE Tool Every Coach Needs

You can run your entire organization with this ONE Tool.
---
Choosing a Baseball Camp:

Summer Camps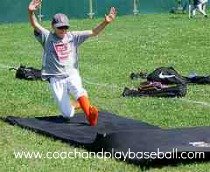 Considering summer baseball camp? Are your kids looking for youth sports activities this summer?
Why not try to find a really good quality youth baseball training camp? You should be able to find plenty of baseball summer camps in most communities within an hour or less drive from your home.
Most college and university baseball schools will offer summer baseball periodically over the summer camp dates that should fit your schedules.
---
FREE Coaching Course

Start building your own 'Culture of Player Development'
I will send you a 4 Part Coaching Course right to your email box.
Purpose of Running a Baseball Camp
I have run dozens of baseball camps over the years in various parts of the country. I want to utilize my God given skills and talents to provide a service back to youth baseball players. I like to teach baseball and feel I am pretty good at it.
I do not do clinics or a baseball camp for free. Too much time and work goes into running a good camp.
Running a baseball camp is supposed to make a profit. It is a capitalistic service to make some money. I usually clear about 30-40% after expenses and overhead on my baseball camp.
A college baseball school uses baseball summer camps to pay their assistant coaches and a little bit for recruiting purposes and various travel expenses. Most if not all the profits help subsidize the assistant coach because the salary for the assistant coaches is usually rather meager.
Baseball camps are money fundraisers for the college coaches. Certainly nothing wrong with making a profit especially if you run a quality baseball camp.
Are You Betting Your
Bang for Your Buck?
There are several considerations to look at when evaluating and choosing to pay the summer camp fees for your kids. Part of the decision comes from what you want to get out of the baseball training camps.
Are you looking for a day care baby-sitting service? Or are you looking for a real good baseball teaching and instructional camp?
If you want day care then it will not matter if the camp provides swimming time, video games, ping pong along with a little baseball field time.
For the real baseball training camp that is all baseball all the time where the players learn about baseball then you want to look a little closer.
What to Look For In Baseball Camps
1. Is the summer baseball camp all baseball all the time or is it more recreational activities? More serious players will want to attend camps that focus on improving baseball skills and learn from knowledgeable coaches.
2. Be realistic. Three to five days at a local college baseball school summer camp will certainly help polish your game to some degree but do not expect the coaches to be miracle workers either. It takes many seasons and a lot of talent to be a really good baseball player.
3. Do the instructors teach, instruct and coach in a positive encouraging tone?
4. Is there direct instruction going on along with applied drills and skill practice time?
5. Are the ball players kept within their age group appropriate ages? You do not want your 8 year old playing catch with a 12-year-old 2 months away from their 13th birthday, as that could be really dangerous.
6. What is the player/coach ratio? I tried to keep my camps at 1:8. One coach for every eight players or less. More than that and you have too much standing around and not enough supervision and instruction. If you want one-on-one instruction though, you will have to pay for personal lessons with a baseball instructor.
7. Do they include time for simulated games, scrimmages and sandlot style games? You cannot do drills and skills forever— you have to play the game at some point.
8. Are the drills and breakout stations worthwhile and skill related or just busy work? The drills should be fast moving, have safety in mind, yet appropriate for age level players to hone their skills and techniques.
9. Do the coaches teach, encourage and emphasize to the hitters to be aggressive at the plate. You will go as far as your bat takes you in baseball.
10. Do the camp instructors quiz the players at the end of each day and prior to warming up each day to check for understanding and review?
11. Are the camp coaches and instructors good role models? Do they use clean language, never go off alone with kids, look out for bullying and verbal abuse, and teach good sportsmanship and teamwork virtues?
12. Do the organizers know how to run a camp by keeping the transitions short and the players engaged in the activities?
13. Do the camp instructors have a first aid kit handy with ice and someone trained in CPR.
14. Do the organizers know how to supervise a large number of players in a small area and still be able to keep safety in mind at all times? You must harp on safety to the campers every day.
15. Look for other baseball parents to help car pool each day if the camp is within an hours driving distance from home.

Elite Camps, Over-Night Camps and High School Age Camps
1. Does the camp staff have baseball forums, baseball videos and discussions in the evenings? Is the camp all about baseball?
2. Is there information and discussions on how the college recruiting processworks and tips for players on recruiting?
3. Is there discussion on what college baseball coaches are looking for in student/athletes?
4. Some college baseball schools will use the summer camps to look at possible recruits for a few days. Coaches can get a pretty good 'read' on a kid's work ethic and their love for the game when they have them up close in a baseball camp.
5. Careful with 'showcase' camps. Many a weary armed pitcher has hurt their arm by trying to overthrow for the radar gun trying to impress college recruiters.
Best Baseball Camps in the USA
Try to get some recommendations from parents and kids that have attended your local area camps before your go.
Do some homework. Get their feedback. You may not have to drive to far off ten-buck-two college U. to get a camp experience when your own backyard has a good training camp.
I have had baseball parents ask me where can they send their kids for a good summerball camp? I'm like, 'Really?" that's what I do—my camp is right here next month! But, some baseball dads and baseball moms think the further away they go the better the camps or more they will get 'seen'.
We could never have a decent quality camp right here in town. Oh, yes we can.
If you do want to go out of state for an outstanding baseball camp with strong Christian men who happen to be top of the line baseball teachers then take a long look at the Doyle Baseball School in Florida. On the West Coach, Nate Trosky, another outstanding Christian baseball man runs summer camps at Trosky Baseball and is highly recommended as we worked camps together back in the 90's.Trosky Baseball.
Baseball Books for Coaches and players

Baseball Impossible: Player Development Make-Over



Build Your Own Culture of Player Development


&
Increase Your Players FUN-Level

6-DVD Video Set Building Your Complete Player Development System

Click to Order

Audio CD Format Click Here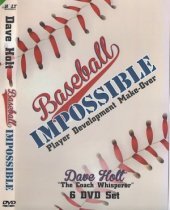 Coaching 6-DVD Box Set
Yes Dave,  I Want to Help My Players Enjoy the GAME

Coaching little league baseball & youth baseball can be a blast or could be a  Tough Gig.

Who in their right mind would come back year after year and have boring baseball practice and never improve their baseball skills? and get yelled at by adults?
Baseball Coaching Videos: Watch over 6 hours of tips on coaching approach, style, philosophy, and my unique player development system. 
Youth baseball careers are short-lived so lets make it count for our players. What do players really want out of playing baseball?
I want to Find Out More about the 6 DVD Player Development System

---
---