---
FREE Offer to Increase Your Kid's FUN_FACTOR
& Make Your Hitters GREAT Again!

How to 'Build an UNSTOPPABLE Culture of Hitting

  Click to Get your FREE  38 Point Hitting Cheat-Sheet now.
Hit Harder, Farther and more Often

---
Coach and Play Baseball Blog
Coach and Play Baseball Blog will give you all the latest stuff from our coachandplaybaseball Youth Baseball web site. We have up-to-date info for coaches, players and parents involved in youth baseball that you do not want to miss. Remember to click the Orange Button to subscribe to the RSS feed. Get ready to take a swing at the info below.
---
FREE Coaching Course

Start building your own 'Culture of Player Development'
I will send you a 4 Part Coaching Course right to your email box.
Mar 30, 2017
How to hit a Baseball: Little Known Insider Tips Only the Pros Know
How to Hit a Baseball Guidebook: Baseball careers depend on how you hit the ball. You go as far as you bat takes you. Learn the pro way to coach hitters.
Continue reading "How to hit a Baseball: Little Known Insider Tips Only the Pros Know"

Baseball Impossible: Player Development Make-Over



Build Your Own Culture of Player Development


&
Increase Your Players FUN-Level

6-DVD Video Set Building Your Complete Player Development System

Click to Order

Audio CD Format Click Here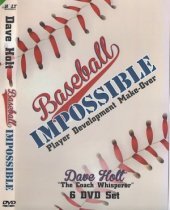 Coaching 6-DVD Box Set
Yes Dave,  I Want to Help My Players Enjoy the GAME

Coaching little league baseball & youth baseball can be a blast or could be a  Tough Gig.

Who in their right mind would come back year after year and have boring baseball practice and never improve their baseball skills? and get yelled at by adults?
Baseball Coaching Videos: Watch over 6 hours of tips on coaching approach, style, philosophy, and my unique player development system. 
Youth baseball careers are short-lived so lets make it count for our players. What do players really want out of playing baseball?
I want to Find Out More about the 6 DVD Player Development System

---
---