Videos Baseball Coaching DVD's:

Revolutionize the Way You Coach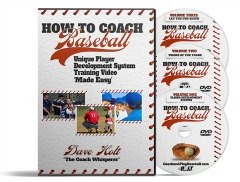 Coaching Baseball Videos for every youth baseball coach, parent, league administrator. This is a 3 DVD set with over 3 hours of baseball coaching clinic tips with hundreds of suggestions to make your baseball coaching style and approach as solid as a rock. 
Players are the focus--not the win-at-all-costs adults. Baseball players are at the heart of our purpose. Adults are just the facilitators, mentors, organizers and role models. Helping young ballplayers improve their skills, enjoy their friends and 'play baseball' is the name of the game. 
Sample of DVD Chapter 1
Baseball Coaching Video
3 CD Audio Set is Here
---
Change the Way You Coach Baseball

3 Hours to Know Your Stuff

Only 1 out of 5 youth baseball coaches have been through any type of training. We have a serious lack of knowledge when it come to youth baseball coaching.
Most often when coaches and baseball parents have never been properly trained on how to develop baseball players we start to see big problems. The adults gravitate to the only coaching style and philosophy they know which is the major league baseball win-at-all-costs model. 
This win-at-all-costs approach is extremely detrimental to the development of ballplayers. This is adult driven and only uses a very short sighted immediate win now philosophy.
Players are lacking proper instruction, are unable to develop proper skill development and often drop out of the baseball by age 14 years old. 
Who Is Dave Holt?
Why Do I Need Coaching Youth Baseball DVD?
"Dave Holt takes a patient and nurturing approach to the baseball development of his players. His recommendations are justified after considerable observations of his players. Dave Holt helped me advance to the Major Leagues!" Dana Kiecker; Pitcher Boston Red Sox 1990, 91.
Overnight

You Can Have Instant Success:


Do Not Miss This Opportunity

This Baseball Coaching DVD video series on the right mindset for coaching youth baseball is must have for any youth baseball coach, baseball parents and league administrators. This is a baseball clinic on how to approach youth baseball today.

Our system today does not do a very good job of developing ballplayers to excel in the game into their teenage years. For one, the game of baseball is quite difficult to play well.

Secondly, youth baseball coaches have had little if any training on the finer points of coaching. Every league, travel ball outfit and recreation department should have a copy of these videos baseball coaching to share with their baseball coaches.
Video Baseball Coaching Includes
(3) 1 hour - 3 DVD Box Set
Audio CD Set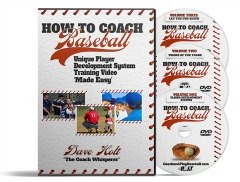 VOLUME ONE: YOUTH BASEBALL TODAY
1.  Youth Baseball Coaching Update
2.  Inside Look at Amateur Baseball
3.   What in the World Did I Get Myself Into?
4.  College & Pro: Visions of Scholarships
5.  Exit Stage Left: Why Do Kids Leave?
6.   Age 13: The Big Hurdle
7.  The Perfect World in Coaching
8.  Player Development Model
9.   Local Minor League system
10. LL Parent Syndrome
11. Increased Anxiety: Watching Our Kids
12. Set the Tone Adult Leaders
13.  Post Game Wrap-Up
---
Regular Price: $117    Just Released Limited Time for $36
(3) 1 Hour Coaching Clinic DVDs

How to Manage Your Team
Avoid disaster! 
Get off on the right foot. 
Look like you know what you are doing.
Build a great practice!
Handle the parents.
Develop, develop, develop.
Create your coaching approach.
Attention: League Adminstrators! You must see this!
Introductory Offer (3) 1 Hour DVDs  $36    66% Off Regular Price 
---
Fully Guaranteed 100% Money Back


---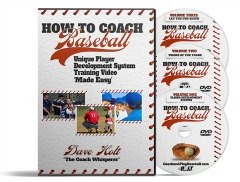 Video 2: Coaching Tricks of the Trade
1. Developing a Coaching Style
2. Over-Coaching: Know-it-all-itous Disease
3. Lookout for the Really Loud Coach
4. Tricks of the Trade
5. Failure is Part of the Game
6. Qualities of a Good Coach
7. Teamwork, Sportsmanship and Respect for the Game
8. Diplomatic Skills: Pushy Parents
9. Parents Meeting Pre-Season
10. Umpires Umpire—Players Play
11. Handling the Bleacher Creatures
12. Preventing the Batting Slump
13. Extra Innings
Veteran Coaches and Rookies

Jam Packed with Coaching Tips
There is nothing else out there that matches this for baseball coaches at all levels.
Just $36...for (3) Hour Long DVDs Full of Incredible Tips...You will not learn this anywhere else. 
Act Now! You Have Nothing to Lose


(except your sanity)
Want the Audio CD Set?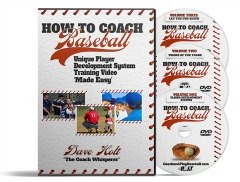 Video 3: Let the Fun Begin
1. Intro: Focus on Practice
2. Practice Foundations
3. What is a Dynamic Practice?
4. Play for Something!
5. Pre-Season Work
6. Practice Checklist
7. Idle Hands are the Devils tools.
8. 90 Minute Practice Template
9. Vital 3-Team Format
10. Playing Catch Like the Pros
11.Ultimate Batting Practice
12. Pre-Game Can Be 'Gold'
13. Dynamic Practice Review
---
For the Cost of Less Than a Hitting Lesson You Can Have a Fantastic Baseball Season
Order the Audio CD 3 Set Version

---
Back Home from videos baseball coaching
---
FREE Coaching Course

Start building your own 'Culture of Player Development'
I will send you a 4 Part Coaching Course right to your email box.