'Player Development is the Winning Formula!'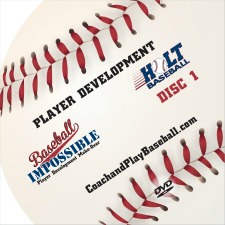 Baseball Impossible: Player Development Make-Over
A 6 DVD Set Complete Resource for Youth Baseball 
See How You Will Benefit Here
---
Coaching Tee Ball: NO Problem



Coaching tee ball can be quite challenging. Especially since the human body development at age four, five and six usually does not include the motor skills to effectively play baseball very well.

The kids' catching and throwing skills physically do not allow them to perform these fine motor skills very well. The hand-eye coordination required to catch the ball is just not there yet for kids in tee ball leagues.
The skills needed for hitting are not very advanced. Knowing all this here we are pumping out little ball players that can't hit, can't catch and can't throw and hoping they don't get hurt.
We are just introducing the game of baseball until their bodies grow up.
Do The Kids a Huge Favor:
How to Hit a Baseball Lefthanded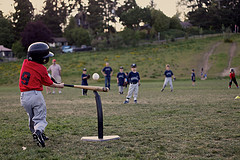 The biggest opportunity for tee ball players to learn how to become a baseball player is their hitting. This is the perfect age for t-ball coaches to start every player out batting left-handed.
Whether the kids throw right or lefthanded does not matter. What ever hand they are-they are. But batting lefthanded does matter.
Batting lefthanded can be learned and there is not a better age to learn. Make the kids bat lefthanded. If you only knew what an advantage batting lefthanded will bring players years later then you would know this is a no-brainer.
About 10% of the population is lefthanded. About 25% of major league players bat lefthanded.
We are certainly not discussing tee ball players playing in the major leagues. We are saying that if a kid were to stay in baseball long enough to reach the high school baseball team or higher they would be a hugely needed commodity.
High school coaches, college baseball recruiters and professional scouts all take notice and look longer at any player that bats or throws lefthanded. Why? Simply supply and demand.
Every high school baseball team and above needs lefthanded hitters to balance a largely righthanded line-up. Knowing that only 10% of the population is lefthanded obviously shows you are in a category with small supply but very large demand.
You are really foolish not to take advantage at this young age and start your tee ball teams all batting lefthanded.
My dad started me and my brother batting lefthanded and throw right from the first time we picked up a bat. We both played minor league baseball and a major factor was we batted left and threw right handed. A combination that is a rare commodity.
The players who survive the game to the high school baseball level are certainly going to be recruited for college baseball scholarships much more often than right handed batters. They might even be forever grateful of your foresight.
Teach Baseball for Tee Ball Without Frustration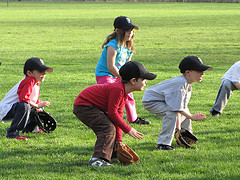 Teaching kids baseball at this tee ball league age is often a disappointing and frustrating task.The best advice for coaching t-ball is to keep the ball moving.
Keep the kids busy doing catching drills, throwing drills and swinging the bat. Have plenty of soft-safety baseballs, a couple of extra batting tees, tennis balls, and whiffle balls.
Whiffle balls are great for this age of baseball player. Whiffle balls can be used in a small area, are safe and fun for tee ball age players (actually older players too).
Tennis balls are safe to especially to hit off a batting tee or soft toss drills. Tennis balls are bouncy so they can be difficult to catch.
Having an extra batting tee or two allows more than one batter to swing at a time. Use old telephone company safety cones or ask someone from the electric company or cable TV companies for some old safety cones. They make great t-ball batting tees.
Dynamic Baseball Tips:
Teaching Baseball in T-ball
First: Keep the tee ball players in small groups. Three groups of four youth players for example. Baseball Practice tips.
Second: Click here to watch how not to coach tee-ball teams. Never put all nine or ten players on the field and have one batter up to bat and the rest picking flowers or watching airplanes. There is too much down time and players do not get enough swings, catches, throws and plays. In a small group they will all get plenty of hitting swings, chances to catch the ball and plenty of opportunities to throw the ball.
Third: Put an adult volunteer youth baseball t-ball coach at each group. Have several types of balls and tees. In your baseball practice plans have each small group work on fielding grounders and catching the ball, throwing the ball teaching kids how to throw, and swing the bat while hitting off the batting tee. You can rotate the groups at any time interval you need to.
The kids can all work on the same skill simultaneously or vary each groups baseball basics skills and drills. Baseball positions are irrelevant at this age.
Fourth: Create a game or contest in every small group. Count the number of catches in row, or good throws, or times the players hits the ball. This keeps more players interested and engaged plus helps with their math skills!
Hey, you are teaching baseball to Kindergarten age kids—you as a t-ball baseball coach have to work the baseball skills and baseball drills at their age appropriate level.
Fifth: Take a look at the 100 Point coaches checklist and my letter to parents.
Read More Youth Baseball Today from Coaching tee ball
Back to Youth Baseball Home
Super Simple Guide to Coach Youth Baseball

---
Youth Baseball 3-DVD Training Video
Coaching 3-DVD Box Set 
Coaching little league baseball & youth baseball can be a DISASTER. Who in their right mind would come back year after year and have boring baseball practice and never improve their baseball skills? and get yelled at by adults?
Baseball Coaching Videos: Do your baseball research. Read some coaching books and watch some  coaching videos. At least you will have a fighting chance to keep players in the game a little longer.
---
Just add your first name and email in this box and sign-up for my monthly e-Zine.
Please tell your fellow baseball circle of friends about the Newsletter sign up page.
---