---
FREE Offer to Increase Your Kid's FUN_FACTOR
& Make Your Hitters GREAT Again!

How to 'Build an UNSTOPPABLE Culture of Hitting

  Click to Get your FREE  38 Point Hitting Cheat-Sheet now.
Hit Harder, Farther and more Often

---
How to Throw a Slider
Baseball Pitch


Youth pitchers want to know how to throw a slider among their different pitches. Once a player reaches the teen-age years and begins shaving they are ready to begin learning the slider grip.
Before this age and physical maturity pitchers should throw exclusively four seam fastballs, two seam fastballs and a straight changeup pitch grips.

How to Pitch a Slider

The slider is a cross between a fastball pitch and a curveball pitch. The speed of the slider is usually 3 to 6 MPH slower than a 2 seams or 4-seam fastball.
A pitcher will throw a slider about 6 MPH faster than their curveball pitch. That is why to throw a slider the speed is about in the middle of fastball grip and the curveball pitch grips.
Learning to Throw Different
Pitches in Baseball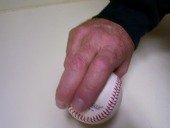 When learning how to throw a slider it is helpful to understand what movement the slider pitch is supposed to do. To understand how to throw pitches like the slider we should know what is going to break like.
The slider grip causes the ball to break late and move a little down and a little away from a righthanded pitcher vs. a righthanded hitter. The slider pitch will appear to look like a juicy fastball to the batter and at the last few feet break sharply down and away.
The pitch is significantly faster than the curveball and slightly slower than the fastball. The break is much less than curveball breaking pitches.
Since the break is less that a curveball pitch often times the pitch is easier to control than the curveball pitch grips. But the speed variation is so close to the four-seam fastball and the two-seam fastball that the hitters do not see much of change of speeds.
Slider Grip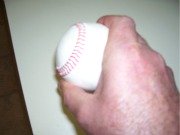 Grip pitches for the slider has the index and middle fingers together and the thumb underneath the ball. Throwing baseball pitches with the middle finger along side snuggly next to a seam along the horseshoe curve of the seams.
This gives the middle finger friction to grip the pitch and off sets the ball slightly which adds to the sharp late break of the slider pitch.
How to Throw the Slider in Baseball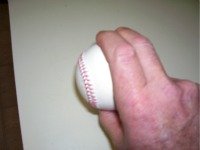 So if you know how to pitch a fastball then it is often pretty easy to pick u a good little slider. Just deliver the pitch like a fastball.
To throw a different pitch with the slider pitch grip your fingers slide to the side of the ball during the release. No need to add any wrist snap or elbow snap.

How to Throw a Cutter as a Cut Fastball
The slider pitch grip is a cutter pitch grip. The name of the slider pitch has interchanged with how to throw a cut fastball or throwing a cut fastball.
The pitching fingers slice through the outside of the baseball on release causing a hard late breaking ball.
The cutter, slider or cut fastball is normally thrown on the outside part of the plate with righty on righty. The pitch is thrown down and in to a lefty hitter vs. righty pitchers.
Very experienced crafty pitchers are able to pitch a 'backdoor slider' where a righty pitcher will start the pitch outside and have the ball break over the outside corner to a lefty hitter. This is mainly a pitching skill mastered by professional level ballplayers throwing the slider pitch though. 
These are simple pitching tips for pitchers to learn how to throw a slider. The slider is often an easy pitch to learn command of and an effective weapon in a pitchers arsenal.

Return to Pitching 101 from How to throw a Slider
---
FREE Coaching Course

Start building your own 'Culture of Player Development'
I will send you a 4 Part Coaching Course right to your email box.

Baseball Impossible: Player Development Make-Over



Build Your Own Culture of Player Development


&
Increase Your Players FUN-Level

6-DVD Video Set Building Your Complete Player Development System

Click to Order

Audio CD Format Click Here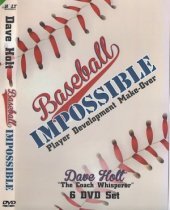 Coaching 6-DVD Box Set
Yes Dave,  I Want to Help My Players Enjoy the GAME

Coaching little league baseball & youth baseball can be a blast or could be a  Tough Gig.

Who in their right mind would come back year after year and have boring baseball practice and never improve their baseball skills? and get yelled at by adults?
Baseball Coaching Videos: Watch over 6 hours of tips on coaching approach, style, philosophy, and my unique player development system. 
Youth baseball careers are short-lived so lets make it count for our players. What do players really want out of playing baseball?
I want to Find Out More about the 6 DVD Player Development System

---
---