FREE Coaching Course

Start building your own 'Culture of Player Development'
I will send you a 4 Part Coaching Course right to your email box.
Catcher Instruction &
Coaching Tips
Good catcher instruction is vitally important to any ballclub's potential success.
Baseball teams that are seeking to play the game well without a catcher that can perform physical duties like throwing, catching and blocking they will struggle to compete and play well.
In addition, the thinking part of the game has to be developed and this part of all about baseball is the job of the baseball coach and proper catcher instruction.
41. Puts the ball tightly in the bare hand when tagging with two hands on a tag play at the home plate.
42. Steps out in front of the home plate and give the 1st and 3rd defensive baseball signs to the infielders and pitcher prior to the play.
43. 'Calls' and points to the base to throw to on bunt plays.
44. Aggressively and quickly gets out in front of the plate on bunt plays to make a play or call the base to have the throws go to.
45. Makes themselves 'big' and 'soft' squaring up the shoulders while blocking pitches.
46. Best catcher instruction says do not try to 'catch' the ball in the dirt unless it is a short hop catch.
47. Very discretely brings the ball a little bit towards the sternum of the chest without fast, jerky, yanking type obvious motions trying to intentionally deceive the umpire.
48. Keeps the holes in the batters box filled between batters to eliminate bad bounces on balls in the dirt.
49. Catcher Instruction knows to get close enough to the batter where an arms length with a glove on can almost touch the batters back shoulder.
50. Tells the pitcher to immediately back track toward the pitching rubber after delivering the pitch and throw the ball back the pitcher quickly to keep the game speed moving along.

Catcher is the Action-Jackson Position
There is much about baseball catcher instruction in the checklist. As you can see this is not a baseball position for the kids who do not like action or do not want to work hard.
No one can learn everything here at once. This is a checklist for players and baseball coaches to use during the season to teach baseball.
Use the list as a reference guide to help catcher instruction improve during the seasons.

Home Page from catcher instruction

Baseball Impossible: Player Development Make-Over



Build Your Own Culture of Player Development


&
Increase Your Players FUN-Level

6-DVD Video Set Building Your Complete Player Development System

Click to Order

Audio CD Format Click Here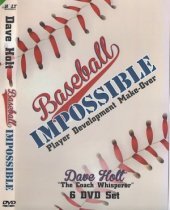 Coaching 6-DVD Box Set
Yes Dave,  I Want to Help My Players Enjoy the GAME

Coaching little league baseball & youth baseball can be a blast or could be a  Tough Gig.

Who in their right mind would come back year after year and have boring baseball practice and never improve their baseball skills? and get yelled at by adults?
Baseball Coaching Videos: Watch over 6 hours of tips on coaching approach, style, philosophy, and my unique player development system. 
Youth baseball careers are short-lived so lets make it count for our players. What do players really want out of playing baseball?
I want to Find Out More about the 6 DVD Player Development System

---
---