Baseball Coaches Guide



How to Build Your Own "Culture of Player Developme

nt

"



Limited Time 75% OFF
Combo Deal


---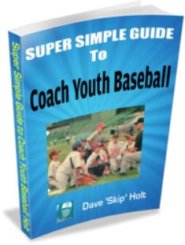 Want to Know How to Increase Your Player's Fun-Factor Level Playing Baseball?
And Build Your Very Own Player Development System
& Help Your Players Reach their Ability Ceiling


I Know You Are a Really Good Coach
& You Want to Get Better...


You Want to Help Your Players Reach Their Talent Ceiling...



Limited Time 75% OFF Combo Deal



Only $9.95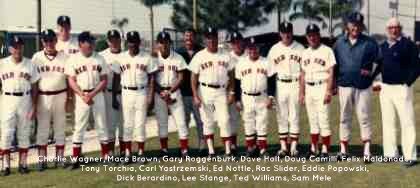 Dave Holt Manager Boston Red Sox Minor League
---
1986 Minor League Staff From L to R: Charlie Wagner, Maze Brown, Gary Roggenburk, Dave Holt, Doug Camilli, Felix Maldonado, Tony Torchia, Carl Yastrzemski, Ed Nottle, Rac Slider, Eddie Popowski, Dick Berardino, Lee Stange, Ted Williams, Sam Mele.
---
Coach Dave Holt
Thank you for coming to this page and getting better at what you do.

It doesn't matter if you are seasoned veteran coach or rookie coach with little experience. We are a community of coaches and always trying to seek more knowledge to make it better for our kids.
Sometimes feel like you could use a boost…spice things up…and be able to motivate kids and parents better?
And you're not alone…
 FACT: Only 5-10% of Youth Baseball Coaches Receive Coaching Training
And this 5-10% figure isn't something we made up…it isn't even our own research.
This is straight from the horse's mouth:
go to NAYS to verify

Source: 1National Council for Accreditation of Coaching Education - Coaching Counts! Case Statement – 2011
That's right, according to National Alliance for Youth Sports (NAYS) own data; only 1 in 10 coaches ever attend baseball training.
So, lets say you work real hard, study up, watch Internet videos, stay organized, and do some practice planning and you still feel like you are missing something.
You probably know a little more than the average parent so you think can hold your own without feeling like a total failure.
Coaches often find themselves imitating other coaches. The problem comes from the win-at-all-costs coaches—and copying the wrong type of coaches.
April 2017 Combo Book Sale $9.95



I Will Help You Build Your Own Complete Player Development System

Increase Your Player's FUN-Level, TOO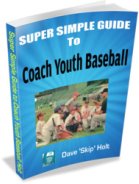 Your players didn't do anything wrong…
But, the vast majority of youth baseball organizations put winning ahead of player development. Coaches and parents don't really have any idea what a 'kid-centered' player development system looks like.
They have never been shown how to...
Now, if you want your kids to get the proper instruction you are going to have to consider investing a bit.
But don't worry…as you'll soon see it doesn't cost very much to get started, and if things go right you can actually start seeing improvement right away.
So how do get the improvement you need?
Is there a  Player Development System that will give your child the instruction they deserve?
There is, and that's exactly what this page is all about…
---
3-eBook Combo Pack Deal $9.95



Your Own High Level Professional Player Development System

Help Your Players Reach Their Talent Ceiling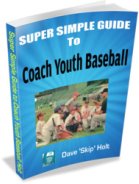 I have been studying, analyzing, investigating and teaching in the youth baseball arena for several decades now.
I have realized that coaches mean well and never intentionally try to hinder a player's development.
But, there is a serious lack of coaches training that is missing in youth baseball. I see hundreds of youth players every year that have to be broken of bad habits and misinformation they have received playing ball in there organizations.
After years of working with youth players I have come up with a formula for maximizing players ability and put them on track for a longer baseball career.
My formula is an easy-to-follow 3 Section guidebook plan to equip youth baseball coaches in player development strategies.
Here is a sampling of what this plan will do for you…
How to make sure you are player development coach.

Know how to approach your communication style.

Be a rock star in practice planning (make practice fun for kids)

Handle game management like professional baseball coaches.

Prepare for the season by planning ahead.

How to build awesome relations with parents.

How to use baseball as the vehicle to your high impact.

Understand why you are coaching.

How to make practice so kids don't want to leave the ballpark.

Get the reasons why kids drop out of baseball.
And sooooo much more.
Personally, I wouldn't attempt to teach these strategies unless I had a proven step-by-step method to follow.
---
Don't Go Back to Coaching Until You Read This Guide



Build Your Own Player Development System





Limited Time Deal 3-eBook Combo $9.95



Yes, I am ready for this limited time offer!  Clock is ticking

Did you realize that 75% of kids drop out of youth sports (baseball) by age 14?
Why do kids drop out? Well, there are dozens of reasons, but the most common denominator is the lack of FUN. (Lack of FUN is code for 'I'm not very good at this').
The reasons the player is not very good could be from lack of proper coaching, lack of knowledge and the WRONG KIND OF COACHING. (There are other reasons too)
When a player reaches post-puberty (13& up) the fields get really big. It gets harder to hit for power, throw with power and run the bases.
If the player lacks the correct technique and knowledge to hit and throw for power on the 'Big Fields'---chances are the game is NO-FUN and they drop out. 
At Holt Baseball, we know what it takes to survive post-puberty age baseball.
I have battle tested my teaching methods and know what works. My coach's player development plan can be implemented by our clients and used to prolong their successful baseball careers.
So, now coaches, you don't have to go it alone!
Normally, this specialty eBook goes for $19 and up. But for a very limited time I'll let you have my coach's player development guidebook for $7.
Yep….$7
This 72-page 8"x11" dynamic look into youth baseball today and how to approach coaching youth baseball with the developmental mindset is stacked full of drills, tips, and helpful guidelines.
You can acquire "Super Simple Guide to Coach Youth Baseball" for only $7
Literally, you can have lunch out or you can:
End the frustration of trying to help your own players and watching them struggle on the ballfield.
Begin to build confidence in your team during competition.
Increase the FUN-LEVEL on your teams.
Bridge the knowledge gap needed for your kids to play the game well.
Avoid the MYTHS used by youth baseball coaches that hinder player development.
Go from consistently struggling to play well--to playing the game well.
Hitting is tremendously difficult but really quite simple with the right kind of instruction.
Build a foundation of baseball skills and knowledge to help kids reach High School Ball.
The choice is yours…do not delay.

---
---
Frequently Asked Questions

What is a Player Development Plan?
It is not quite a full training session series or complete training system…
Yes it will equip you to get your head on right and completely change your approach to coaching kids.

Here is how it works:
We will send you your copy as soon as you press order.

You will be able to implement the system immediately.

You will begin coaching with huge array of knowledge and tools.
Save you time searching all over the internet
Quickly set up a quality practice plan with a high FUN-Level
The Player Development Guidebook Plan will give us an idea where are strengths and weaknesses are.  Once we know what to attack we can utilize the data to put together a strategy to succeed.
We are all about putting the player develop plan to action and getting results quickly and as easily as possible.
Why $7
If you're thinking, "$7 is cheap…what's the catch?" then here are three reasons that should put your mind at ease:
$7 puts this player development Guidebook plan within reach of everyone…from rec league coaches, travel ball coaches, and experienced coaches training teenage players.
It weeds out the freebie-seekers. We only want serious coaches who love to coach baseball and want to get better.
We tested it and want it to get your attention.
We also believe that once you experience the Player Development Plan, you'll want more and maybe…just maybe…you'll come back, buy more and possibly upgrade to a complete player development coaching package where you get access to an ongoing training system.
But that's it…
No fine print…no 'hidden trials"…no shenanigans. Just the plan you need and the results you want.
Is There a Guarantee?
Yep…all our products have a ONE YEAR, no-questions-asked guarantee.
In other words, if you aren't happy for any reason, just let us know and we'll give you your money back. We obviously don't think it'll come to that, but if you're even the least bit worried if this will work for you, then put your mind at ease. You either get the results you want or you get your money back. It's as simple as that!
How Long Will It Take to Get Access to this Player Development Plan?
Immediate.
You will get an email from me as soon as the order goes through. We will get send you your copy in your email Inbox.
You will be able to download the file to your computer of device and have it at your fingertips.
Buy Now & Instantly Begin Building Your  Player Development System
Risk-Free

Scroll to See $9.95 3-eBook Deal

Downloadable eBook (PDF File)  $7
Immediately after your purchase of Baseball Coaches Guide, you can download your eBook and start learning new baseball strategies, coaching tips, and experienced secrets within minutes.
This eBook is in the adobe PDF file format. If your computer does not have the Adobe Reader software, you can easily install it for free.
The eBook version comes with a No-Questions Asked ONE YEAR Guarantee:
If your are not satisfied with eBook, just email me within ONE YEAR of your date of purchase—and I will send back your 100% refund immediately.Your eBook purchase is totally 100% secure and safe—and 100% risk-free.
As soon as you order the eBooks you will have 72 hours (3 days) to download the books to your computer. And, up to (3) downloads during the 3 days.
Check your email box for notification of the download.
Buy the eBook Now
with PayPal or Credit Card: $7
Upgrade to 3-eBook Combo Deal $9.95

---

Do You Have Any Examples of Other Coaches Who Have Used Your Guides To Get Good Results?


Yes,
Dave: Came across your books & videos 2 years ago at the end of the season.
I implemented your techniques the next season and can't thank you enough. The kids love practice, we accomplish a lot, and most importantly they all develop throughout the season. I don't worry much if we win or lose just as long as we try and they get better.
My pitchers only throw fastballs and a change up and we do just fine. If the other team hits the ball, great it gives the defense an opportunity to make a play.
I never coach from the box, I just encourage them to hit. And they all know the have the green light on 3-0. The best thing I can do for them is make them better hitters and the only way is to hit! By the way my kids are Junior Little league ages 13-14. Zach, Stockton, CA.
---
The Best Deal! Save 75%
 ($38 Value)


Limited Time Sale



Get ALL 3 eBooks COMBO Package for ONLY $9.95



& Get 459 Essential Tips Book FREE



Time You Have Left click here

CHECK OUT 'Never Run Short of Pitchers' 
&
'You Go As Far As Your Bat Takes You'
Having Fun Yet: 459 Essential Baseball Coaching & Playing Tips
Not ready to go all in and pay $9.95...thats okay, just try one of the books for $7 and see how it goes...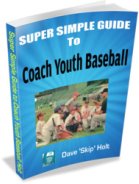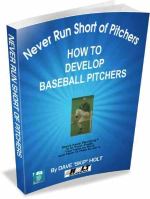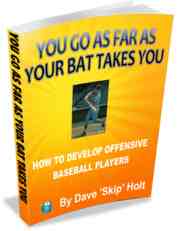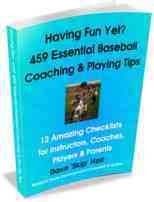 ---
ORDER NOW! Yes I want to Help My Players to...
Enjoy playing the game
Reach their highest ability level
Love baseball
play in my own special player development system
How Much time do I have for this $9.95 Deal?
the clock is ticking....

Best Bundle Deal All 3 eBooks an Get One FREE = Less than $2.50 per book.
---


---

Exclusive BONUS #1 
Player Expectation Chart
Any baseball age level team can use this chart. It is a great starting point for implementing your procedures and rules.
Just like any good well-prepared classroom teacher it is imperative to have some procedures in place and explained for the overall benefit for the operation of the ballclub.
Pick and choose from the chart to create your own customized chart. Add your own items and remove portions that do not apply.
Stick to your list and you will have a smoother ride through the season!
Vital BONUS #2
A Concept Map Why Players Drop Out
The data tells us that 75% of youth sports and baseball players will stop playing sports by the age of 14 years old. It is vital to understand why young athletes stop participation in sports.
The reasons are many and often one just hits their talent and baseball skill ceiling and know it is time to move on. But, for many, the parents and coaches can put a big damper on the experience.
Make sure you are part of the solution and not part of the problem. Arm yourself with so you know the reasons kids play baseball and why they leave.
The Player Expectation Chart and the Why Players Drop Out Concept Map is included at the end of the Chapters inside the baseball coaches guide book for your easy access.
---

Secrets to Save Your Season

Absolute Best BUY the ALL 3 eBooks COMBO Package

& 459 Essential Tips FREE



Limited Time $9.95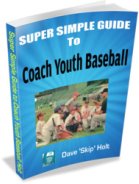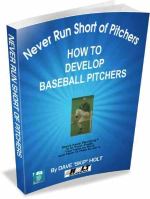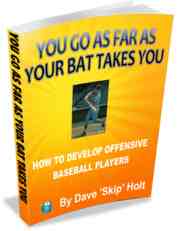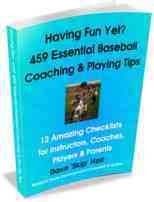 ---
---
Save 75% OFF list price
= Less than $2.50 Each
$9.95 and instantly you will have all 4 eBooks arrive on your computer, Ipad or mobile device.
Do you want to look like you know what you are doing or do you want to be be ill-prepared, disorganized and put yourself up for more criticism?
Never ordered eBooks online? It can make you a little nervous. Go to my frequently asked questions FAQ for a bit more info. I too want to make sure I will be ordering from a secure server and I am going to get my stuff. 
I use PayPal, one of the most trusted online payment companies out there.
ORDER your copies Now! Only $9.95
---

Baseball Impossible: Player Development Make-Over



Build Your Own Culture of Player Development


&
Increase Your Players FUN-Level

6-DVD Video Set Building Your Complete Player Development System

Click to Order

Audio CD Format Click Here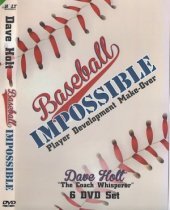 Coaching 6-DVD Box Set
Yes Dave,  I Want to Help My Players Enjoy the GAME

Coaching little league baseball & youth baseball can be a blast or could be a  Tough Gig.

Who in their right mind would come back year after year and have boring baseball practice and never improve their baseball skills? and get yelled at by adults?
Baseball Coaching Videos: Watch over 6 hours of tips on coaching approach, style, philosophy, and my unique player development system. 
Youth baseball careers are short-lived so lets make it count for our players. What do players really want out of playing baseball?
I want to Find Out More about the 6 DVD Player Development System